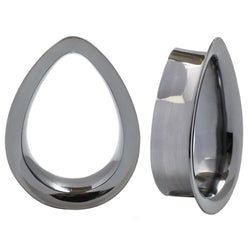 Mayan Teardrops Eyelets - Black Rhodium
Our beloved Mayan teardrop eyelets featuring black rhodium, a very rare and naturally occurring member of the platinum group of metals. 
Please note that while the black gold looks amazing it does show imperfections more so than lighter gold colors 
If you would like a couple of o-rings for extra security, please put that in your checkout notes!
Details
3 microns thick Black Rhodium plating
Larger Mayan style front flares
Sold as a pair
All gold plated plugs are discounted up to 70% OFF and are FINAL SALE. Please note that we do not use any harsh sealant on our plated jewelry for enhanced biocompatibility. Though these plugs have a high micron gold plating thickness for quality and beauty, these designs are from our 2018 collection and over time the gold plating can naturally wear off.
More questions?
Email us!