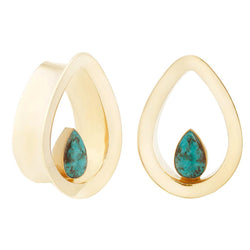 Evoke Mayan Teardrops - Yellow Gold + Genuine Turquoise
Mayan double flared teardrop plugs, adorned with a genuine turquoise inlay. Each stone has been handpicked by our designers!  
Details
18kt plated yellow gold
Turquoise inlay
Larger Mayan style front flares
Sold as a pair
All gold plated plugs are discounted up to 70% OFF and are FINAL SALE. Please note that we do not use any harsh sealant on our plated jewelry for enhanced biocompatibility. Though these plugs have a high micron gold plating thickness for quality and beauty, these designs are from our 2018 collection and over time the gold plating can naturally wear off.

More questions?