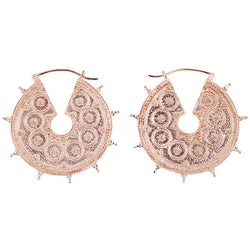 Goddess Earrings - Rose Gold
The Goddess earrings feature handmade beading and hand-etched details. They look great alone or through your favorite eyelets!
This design is available in an 18 gauge + 8 gauge - please see details for size difference

Details
Size small: 18g post 32mm overall diameter
Size large: 8g post - 60mm overall diameter
Rose gold plating
Sold as a pair
More questions?
Email us!