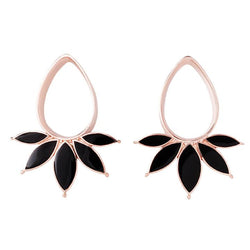 Marquise Eyelets - Rose Gold + Onyx
Teardrop shaped eyelets adorned with pear-cut onyx inlays
Details
18kt plated rose gold
Onyx inlay
Double flared
Sold as a pair
All gold plated plugs are discounted up to 70% OFF and are FINAL SALE. Please note that we do not use any harsh sealant on our plated jewelry for enhanced biocompatibility. Though these plugs have a high micron gold plating thickness for quality and beauty, these designs are from our 2018 collection and over time the gold plating can naturally wear off.
More questions?
Please note that smaller sizes will have smaller details. Models are wearing 1 1/2" & 2"