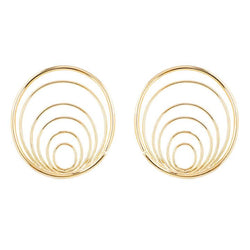 Osiris Earrings - Yellow Gold
The Osiris design is a modern take on a classic hoop! This design features five ovals inside of the hoop for extra style. 
Details

18 gauge post -  42mm overall diameter // 8 gauge post - 60mm overall diameter // 2 gauge post - 80mm overall diameter
Plated yellow gold

Sold as a pair
Please note larger sizes will have higher weld marks at the bottom to assure stability
More questions?
Email us!