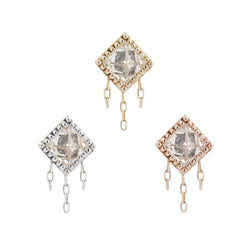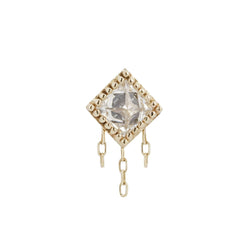 The Hustle - CZ + Chain - Threadless End
Do the Hustle!
A glamorous new addition to our Movement collection. This reverse set Swarovski CZ is adorned with 3 chains at the bottom making it a great option to help finish any curated ear!
Fun fact: If you have a jeweler's loop or magnifying glass, use it to see the engraved Swarovski logo on the gemstone!
Details
Overall size: 4.5mm

3mm Reverse Set Swarovski CZ

Solid 14kt  Yellow, Rose & White gold
Universal threadless pin end
Sold as a single

Threadless ends have a lifetime guarantee against any manufacturing defects



Back sold separately at your local piercing studio
Please note: While we make all our products with the highest integrity and quality, Chains are inherently delicate by nature. If there is a chain breakage due to a manufacturer error, we are happy to offer repairs for one year from the purchase date.
For more information on how to use and bend Threadless Ends please go to our Jewelry Care page