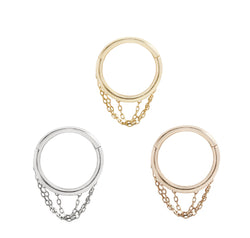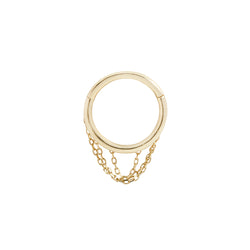 Chainspotting - Clicker
This trendy hoop will be your favorite everyday go-to! Chainspotting is a shining 14kt gold clicker ring, enhanced with three chains varying in length for a stacked, textured style. This piece works best on the conch, helix, or lobe and will allow the chains to elegantly drape along the ear.
Details
16 Gauge - 5/16" - 3/8" - 7/16"
Available in solid 14kt Yellow, White + Rose gold
Hinge clasps - Clicker style

Sold as a single
Please note: While we make all our products with the highest integrity and quality, Chains are inherently delicate by nature. If there is a chain breakage due to a manufacturer error, we are happy to offer repairs for one year from the purchase date.
Piercing photo by @
staytruebodypiercing
Curation by @skindeepolean