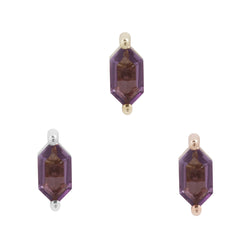 Oh My My - Hex Cut Amethyst - Threadless End
Oh My My! Aren't you a pretty thing!
We are so excited about this new end! Two prongs help keep the design minimalistic while showing off all the gemstones goodness. Pair these with either our 3 or 4 bead gold tops for the perfect look!
Details
Overall size: 2mm x 5mm

Solid 14kt gold - Comes in Yellow, Rose & White gold

Genuine Hex

Cut Amethyst

Universal threadless pin end
Sold as a single

Threadless ends have a lifetime guarantee against any manufacturing defects

Back sold separately
For more information on how to use and bend Threadless Ends please go to our Jewelry Care page
Piercing by @piercingsbyemm