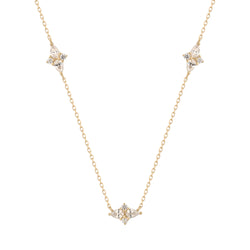 RION x Buddha Jewelry Elysian Gold Necklace - White Sapphire
We're pleased to offer you expanded availability of the RION X Buddha Jewelry collection on our wholesale site! Please note that due to pricing constraints these items are not priced for standard keystone markup. We're able to offer these to you at a 25% discount on MSRP.
Indulge yourself in a 16"-18" solid 14K design featuring a trio of ethereal white sapphires.
Details
Size: 16"-18" (adjustable)
Brand: RION x Buddha Jewelry
Gemstone: (6) 2mm x 3mm and (6) 1.3mm White Sapphire
Solid 14kt Yellow Gold