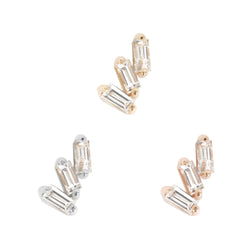 Staxx - White Topaz - Threadless End
Staxx is a SHOW-STOPPER! Beautifully designed with gorgeous cascading genuine white topaz's stones, this piece is perfect for minimalists looking to add some sparkle to their everyday look.
Details
Overall size:

2.5mm x 5mm




Solid 14kt gold - Comes in Yellow, Rose & White gold

(3)

1.5mm x .5mm Genuine White T

opaz - Natural white topaz can have a slight golden hue to the stone


Left + Right direction - We like to wear these with the left on the left ear and the right on the right ear, but you can do whatever you like best!

Universal threadless pin end

Sold as a single

Threadless ends have a lifetime guarantee against any manufacturing defects

Piercing by John Figone at Deep Roots, located in Seattle, WA, USA
For more information on how to use and bend Threadless Ends please go to our Jewelry Care page

More questions?
Piercing by John Figone at Deep Roots, located in Seattle, WA, USA